The horse show in Bordeaux by Tully
---
Today, Tully, from Feinn's breeding, tells us about his weekend at the Bordeaux horse show!
New experience for my little rider Liam and me this year: the Bordeaux Horse Show!
He is too happy, he jumps around, I hesitate between putting in a strike day or going to the site...
Well anyway they take me on board, we'll see when we get there!
Here we are, we finally arrived... I was promised a "fast" trip at the boarding, next time I will think twice before going up anyway!
Luckily I had a neighbor in the truck, Olivia. She looks determined as she comes in, blonde with a flying mane. It annoys me a little.
This being the case, I won't be able to face her for long, she's the only one I know on the spot.
The stall neighbors look pretty cool, that's already a good thing. Apparently our riders already knew each other. There's a nice gray one right across the street that I'm looking at while fluttering my eyelashes. I try to get noticed by fidgeting in the stall for a few hours. He pretends to ignore me but I know it's just a facade.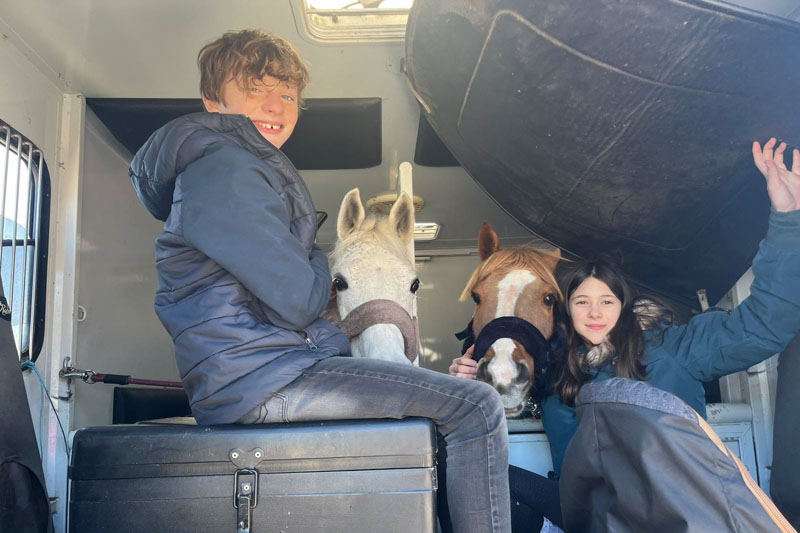 Barely arrived we could go to graze along the pond, that suits me rather well as program. We take advantage of it to make some photos in Horse Spirit outfit, that they publish again at once. It is true that I am rather photogenic.
I hope the bellhop doesn't realize too quickly that she forgot my net in the truck, hopefully I'll save myself an ordeal.
The Ace tests start, I feel my little rider in stress.
The stress rises when everyone realizes the net is missing. Grace has just realized that she left it in the truck at the other end of the parking lot. She starts running super fast. Coach looks really angry.
I love it, every time it makes me laugh.
The stall neighbors betrayed me, and lent us a net until she came back. Finally I find them much less friendly. Grace comes back just in time, she has never been so fast. An aborted attempt.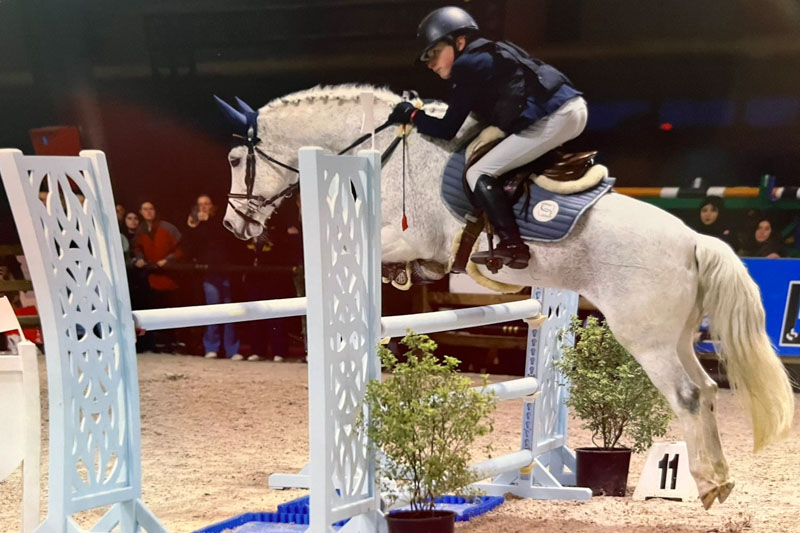 The As2 event starts, the course goes on. More or less well. I spotted an obstacle that I didn't like, we made a mistake on it. In my defense, it's still very noisy and looking, the screen is huge and the obstacles are just below. There are moreover quite a lot of eliminated. We could have done worse.
The evening goes by, my friend Olivia wins her race the next day with Liam, and finishes 4th with Valentine. Result one saddles me for the handing-over of the prices so that Valentine is not on foot.
I hope that this time at least they will let me do the lap of honor, it's my favorite moment... my joyful movements during the last one must have been misinterpreted, because I haven't done one since. I thought I would save them some time by galloping back to the truck.
Valentine and her mother Elodie arrive, Elodie is going to hold me for the handing-over, she does not know too much about horses, perfect, I am going to make her the unforgettable moment. The handing-over of the prices is carried out in great pomp, and lasts a certain time, that I use to good purpose to make make some tricks to Valentine and Elodie, more especially as I know that I am filmed.
I test a little her endurance by making her run, I confirm, she has it.
I see the coach laughing while she films the whole thing. Next time it will be her turn, but she doesn't know it yet.
A third person interferes and helps to hold me, 3 against one, it is a little disproportionate, I capitulate willy-nilly. We had a lot of fun anyway.
My second day of test arrives, we make a magnificent beginning of turn, it is a little bigger than usual. I arrive on the 8, which is the easiest, I realize that we will be without fault! I believe that my small rider and the Coach begin to believe it too. I spot the beautiful gray coming to the entrance of the track. I stop. I waddle back in front of him and do it again. I would not want him to think that I am an easy girl. Then we finish very well, I show him that I can also jump. I think I have a touch.
Anyway, I had already done the awards ceremony.
The last day is quiet for me, we walk, we graze, we hug, we walk, we graze, we hug.
I glimpse half-naked people heading towards the big runway of the show, sputtering slogans that I don't understand. They come out some time later, carried like twigs by the security, the landing must have hurt. Apparently they ran down the main runway screaming, like at a soccer game. I should have taken up soccer, the atmosphere seems much more dynamic.
Meanwhile Olivia is a star, finishing 3rd and 6th in the Grand Prix under the saddle of Liam and Valentine. I prepare myself psychologically to be able to strut my stuff again on the track, I've spotted the girl to avoid! Surprisingly this time nobody comes to saddle me up for the prize-giving, I am a little disappointed. Liam is doing his walkover. I think the coach chickened out.
Liam even leaves with a new sponsor, Helite airbags, he thinks it's due to his results, I think it's rather my natural charm that works, but I don't tell him. In any case, I'm going to make sure he gets a quick test, it's my duty and I take it very seriously.
Liam gives me big hugs anyway, he must really care about me. Well, I make an effort, I give him back too.
It's time to leave.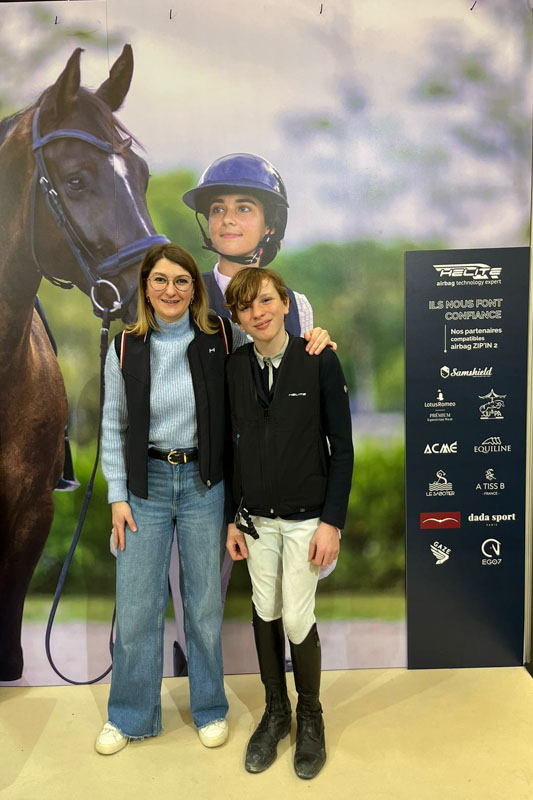 In the end, it was still a nice weekend, I want to come back next time. I wink at the beautiful gray, it also leaves. Our riders exchanged their 06 again, we will see each other again for sure.
Thanks to our partners, especially Horse Spirit, who allowed us to participate, and see you next year at the Jumping International de Bordeaux!
Our riding clothes